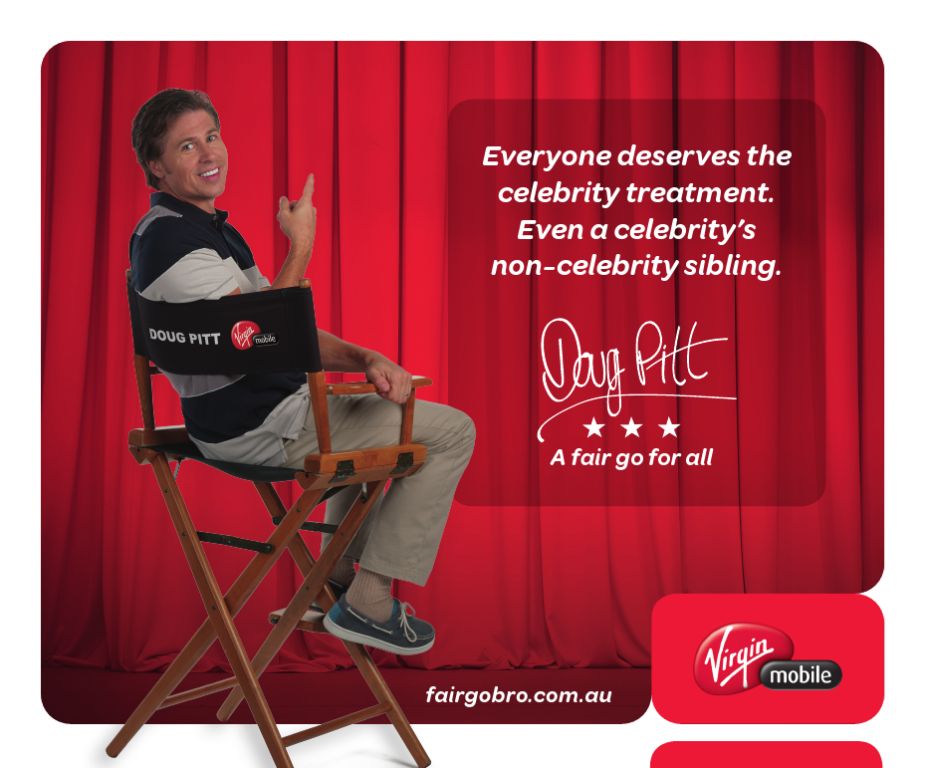 Virgin wants a fair go for Doug Pitt (the second most famous person in the Pitt family)
Virgin Mobile has just launched its latest marketing campaign featuring Doug Pitt, the younger and somewhat lesser known brother of Brad Pitt. The launch has focused initially on the website www.FairGoBro.com.au and uses social media to generate customer engagement before being extended to print, outdoor and television.
The campaign is in keeping with its previous "fair go for all" promotion, and wants people to give Doug Pitt a fair go by letting him know what it's like to be a celebrity just like his older brother. Virgin is urging people to show Doug some 'like' via Facebook and there is a celebrity meter on the FairGoBro website that displays the number of 'likes' and ranks Doug from "Just a Bro" to "CeleBro!"
Virgin's latest campaign is very clever. Firstly, it is able to capitalise on the celebrity status of Brad Pitt without having to pay for him. Then because most people don't know a thing about Doug (who runs a computer repair business in Springfield Missouri) it ignites a curiosity to find out about him. It then takes that attention and channels it towards a cause that is in keeping with Virgin's brand personality, by asking people to even things up in the Pitt family, by giving Doug some attention. Virgin's positioning as an underdog is aligned perfectly with the idea of giving the underdog (in this case Doug) a fair go. The inference of course, as with the brand positioning of other Virgin companies, is that Virgin Mobile is the underdog competing with the bigger, entrenched players, striving to give better value to the consumer.
The website is well designed, clean and simple, and has a very obvious call-to-action linked to a prize giveaway and includes a strong social media component. The campaign only launched this morning, but Virgin could be well on the way to another hit with this one. The video is excellent, and Doug obviously had fun doing it. You can check it out here:
Credits: The campaign is from Euro RSCG and One Green Bean
https://www.smartink.com.au/wp-content/uploads/2012/07/Virgin-Mobile-Doug-Pitt.jpg
768
925
Peter Chaly
https://www.smartink.com.au/wp-content/uploads/2013/04/SMARTink-Logo-final-2014-340-x-116.png
Peter Chaly
2012-07-02 06:34:24
2016-06-24 13:30:52
Virgin wants a fair go for Doug Pitt (the second most famous person in the Pitt family)